Martin Plumbing & Backflow Services
---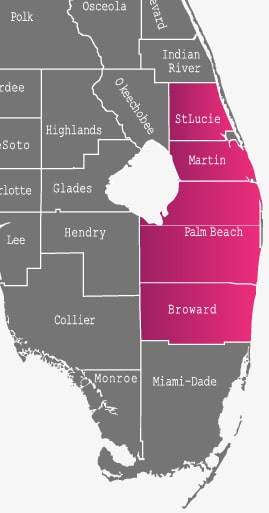 Welcome to Flamingo Plumbing & Backflow
---
Flamingo Plumbing & Backflow is a trusted and reliable provider of comprehensive plumbing services in Martin. With our team of highly skilled professionals and a commitment to exceptional service, we are dedicated to meeting the plumbing needs of both residential and commercial clients in this area. When it comes to quality plumbing solutions, Flamingo Plumbing & Backflow is the name you can trust. Read on to learn more about our plumbing services in Martin.
About Martin
Martin County, nestled along the Treasure Coast of Florida, is a charming and serene destination. Known for its natural beauty, Martin County boasts stunning beaches, picturesque waterways, and an abundance of outdoor activities. From kayaking in the peaceful St. Lucie River to exploring the diverse wildlife in the Jonathan Dickinson State Park, Martin County offers a tranquil escape for nature enthusiasts. With its laid-back atmosphere and small-town charm, Martin County is the perfect place to unwind and enjoy the simple pleasures of coastal living.
Our Plumbing Services
At Flamingo Plumbing & Backflow, we offer a wide range of plumbing services to cater to the diverse needs of our Martin clients. Our experienced and licensed plumbers are equipped with the latest tools and techniques to handle various plumbing projects efficiently. Here are some of the services we provide:
Plumbing Installations and Repairs
Whether you need new plumbing installations for your property or repairs for existing plumbing systems, we have you covered. Our team has extensive experience in installing and repairing pipes, fixtures, water heaters, sewer lines, and more. We ensure that every installation is done with precision and every repair is carried out effectively.
Clogged drains and sewer line issues can disrupt your daily life. Our experts specialize in drain cleaning, sewer line inspections, and repairs. Using advanced equipment and techniques, we can quickly diagnose the problem and provide efficient solutions to restore proper drainage and prevent future issues.
If you're experiencing issues with your water heater or need a new one installed, our skilled technicians can assist you. We offer water heater repair, replacement, and installation services to ensure that you have a reliable and efficient hot water supply in your Martin property.
Backflow Prevention and Testing
Protecting your water supply from contamination is crucial. We provide comprehensive backflow prevention services, including the installation, testing, and maintenance of backflow prevention devices. Our team ensures that your property's water system remains safe and free from backflow incidents.
Contact Us Today!
Why Choose Flamingo


Plumbing & Backflow
---
When it comes to choosing a plumbing service provider in Martin, Flamingo Plumbing & Backflow stands out for several reasons:
Expertise and Experience: Our team consists of highly skilled and experienced plumbers who have a deep understanding of plumbing systems. With years of industry experience, we have successfully completed numerous plumbing projects, earning the trust of our clients.
Quality Workmanship: We take pride in delivering top-notch workmanship in every project we undertake. We use high-quality materials and follow industry best practices to ensure that our work is durable and long-lasting.
Prompt and Reliable Service: We understand that plumbing issues can arise at any time and require immediate attention. That's why we offer prompt and reliable service to our Martin clients. Our team is dedicated to arriving on time, addressing your plumbing needs efficiently, and completing projects within the agreed-upon timeframe.
Transparent Communication: We believe in open and transparent communication with our clients. We take the time to listen to your needs, provide detailed explanations of the plumbing process, and keep you informed throughout the project. Your satisfaction is our priority, and we strive to exceed your expectations.
Customer Satisfaction Guaranteed: At Flamingo Plumbing & Backflow, customer satisfaction is at the core of our business. We are committed to providing exceptional service and ensuring that you are completely satisfied with the results. We value your feedback and are always ready to address any concerns or questions you may have.
Choose Flamingo Plumbing & Backflow for reliable and professional plumbing services in Martin. Visit our website to learn more
Residential and Commercial Plumbing Service
We Offer 24/7 Support For Our Customers
News & Articles
---
Looking for useful plumbing tips, information, and advice from local plumbers? Flamingo Plumbing & Backflow publishes articles monthly in an effort to provide our customers with useful information.
---
Stay Up To Date
---
Each month we have expertly written informational articles added to this section. These can cover a wide variety of plumbing related topics and are aimed at keeping our clients up to date with all of the most recent and relevant news.
See All Articles