Palm Beach Plumbing & Backflow Services
---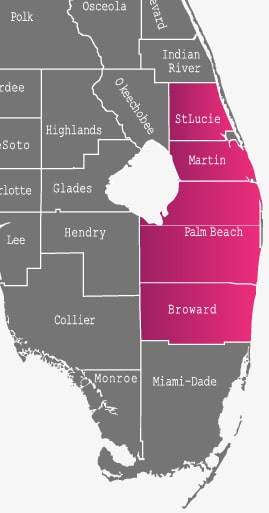 Welcome to Flamingo Plumbing & Backflow
---
Flamingo Plumbing & Backflow is a leading provider of professional plumbing services in Palm Beach. With our team of highly skilled plumbers and a commitment to excellence, we strive to meet the diverse plumbing needs of both residential and commercial clients in this vibrant area. When you choose Flamingo Plumbing & Backflow, you can expect exceptional service, superior workmanship, and reliable solutions. Read on to learn more about our plumbing services in Palm Beach.
About Palm Beach
Palm Beach, situated along the southeastern coast of Florida, is a picturesque destination known for its pristine beaches, luxurious resorts, and upscale shopping and dining. With its palm-lined streets and lavish estates, Palm Beach exudes elegance and sophistication. Visitors can indulge in world-class golfing, explore art and cultural institutions, or simply relax under the warm sunshine. Whether seeking relaxation or indulgence, Palm Beach offers a refined and idyllic retreat for those in search of a luxurious coastal experience.
Comprehensive Plumbing Solutions
At Flamingo Plumbing & Backflow, we offer a comprehensive range of plumbing services to address all your needs in Palm Beach. Our experienced technicians are equipped with the knowledge, skills, and state-of-the-art tools to handle a wide range of plumbing projects. Here are some of the services we provide:
Plumbing Installations and Repairs
Whether you require new plumbing installations for your Palm Beach property or need repairs for existing plumbing systems, our expert plumbers are here to assist you. From pipes and fixtures to water heaters and sewer lines, we ensure that every installation is done accurately, and every repair is carried out efficiently.
Clogged drains and sewer line issues can disrupt your daily life. Our dedicated team specializes in drain cleaning, sewer line inspections, and repairs. Using advanced techniques and equipment, we are able to rapidly pinpoint the underlying cause of the issue and offer workable solutions to restore proper drainage and avert further problems.
Backflow Prevention and Testing
Protecting your property's water supply from contamination is of utmost importance. We offer comprehensive backflow prevention services, including installation, testing, and maintenance of backflow prevention devices. Our certified technicians ensure that your Palm Beach property remains protected from any potential backflow incidents.
If you are experiencing issues with your water heater or are in need of a new installation, our skilled technicians are ready to assist you. We provide reliable water heater repairs, replacements, and installations to ensure that you have a consistent supply of hot water in your Palm Beach property.
Contact Us Today!
Why Choose Flamingo


Plumbing & Backflow?
---
When you choose Flamingo Plumbing & Backflow as your plumbing service provider in Palm Beach, you can expect the following advantages:
Experienced Professionals:

 

Our team consists of highly trained and experienced plumbers who possess in-depth knowledge of plumbing systems. With years of experience in the industry, we have successfully completed numerous plumbing projects, earning the trust and satisfaction of our clients.
Quality Workmanship:

 

We take pride in delivering top-quality workmanship in every project we undertake. We utilize premium materials and adhere to industry best practices to ensure that our work is durable, reliable, and long-lasting.
Timely and Dependable Service:

 

We understand the urgency of plumbing issues and the importance of reliable service. Our team is dedicated to providing prompt and dependable service, arriving on time and completing projects efficiently, without compromising on quality.
Transparent Communication:

 

We believe in clear and transparent communication with our clients. We take the time to listen to your needs, explain the plumbing process in detail, and keep you informed throughout the project. We value your input and strive to exceed your expectations.
Customer Satisfaction Guaranteed:

 

At Flamingo Plumbing & Backflow, customer satisfaction is our ultimate goal. We are committed to delivering exceptional service and ensuring that you are fully satisfied with the results. We value your feedback and are always ready to address any questions or concerns you may have.
Choose Flamingo Plumbing & Backflow for professional and reliable plumbing services in Palm Beach. Visit our about page to learn more about our services or to schedule an appointment. We look forward to serving you!
Residential and Commercial Plumbing Service
We Offer 24/7 Support For Our Customers
News & Articles
---
Looking for useful plumbing tips, information, and advice from local plumbers? Flamingo Plumbing & Backflow publishes articles monthly in an effort to provide our customers with useful information.
---
Stay Up To Date
---
Each month we have expertly written informational articles added to this section. These can cover a wide variety of plumbing related topics and are aimed at keeping our clients up to date with all of the most recent and relevant news.
See All Articles